Stourport Boat Club was founded in 1876, when boating was the main pastime, which is the primary reason why it is still known as a Boat Club, and not a Rowing Club.
The history of Stourport Boat Club goes back over 145 years. The first Town Regatta was held in 1876, organised by Mr. Wm. Dorsett, J.P. and an influential committee comprising Messrs. J.C. Rogers, J. Stringer, Stanley Baldwin, Enoch Baldwin and C. Harrison. They left no stone unturned in their endeavour to promote the regatta.
A fund of £80 was raised, handsome prize sums were offered, open to all England and invitations were sent to many of the best rowing clubs of the day, as well as to their neighbours at Worcester, Tewkesbury, Evesham and Bewdley.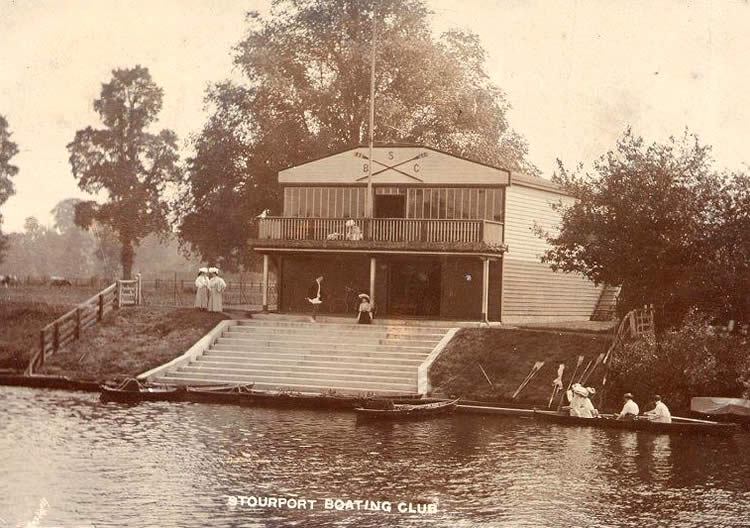 The course marked out was from the Redstone Rock, below the bridge, to a meadow some 450 yards above the bridge, making a distance of about a mile and a quarter and a straight row in. Mr Stephen Salter of Oxford, was umpire and judge, and dressed in the scarlet coat and badge of The Royal Thames National Regatta, and mounted on a steed, he was quite a conspicuous object as he galloped along the banks of the river to see the start and end of each race.
There were only two races at that first Regatta, the Ladies Plate (single scull), and the Town Plate (fours). Both events were won by West London Rowing Club. The first heat of the Town Plate was contended by 3 crews, Cardiff, Evesham and Stourport; Cardiff won and the Stourport crew allegedly "gave up"!
To this day, the two day Regatta held every year in August attracts over 600 crews from all over the country to compete. The event attracts many spectators and supporters and 3,000 visitors are catered for over the weekend.
The Boathouse, Riverside,
Dunley Road, Stourport-on-Severn,
Worcestershire DY13 0AA.