Stourport Boat Club is committed to providing a safe and fun environment in which to learn to row, led by the Junior Coach and Co-ordinators. The aim of the group is to introduce juniors to the sport, whilst building a successful squad to compete at national competitions.
We operate within a culture of fun, safe rowing and our social events play an important part in being a junior member. Everything that we do is dependent on volunteers as there are no employees at Stourport Boat Club, so parents are encouraged to be involved and we value your support.
Our Junior Squad development on the water over the past few years has been exceptional, with our most recent season winning 70 events.
We are proud of our record of engaging youngsters at all levels in rowing. Whilst it is important we ensure our juniors take enjoyment from rowing and the social side with new friends, we are always mindful that we are a competitive rowing club and challenge our Squad in maintaining a culture of aiming high in their performance.
All coaches, officials and volunteers that work closely with our Juniors are DBS checked and receive regular safeguarding training. We take safety and welfare extremely seriously.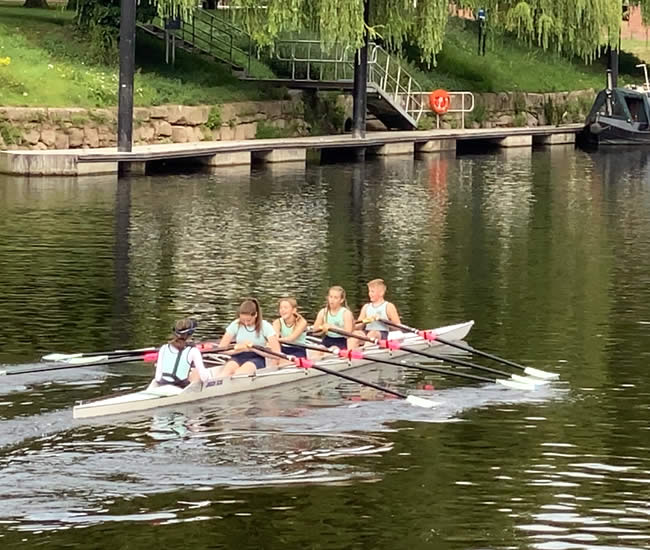 Anyone can register to be a Junior member from age categories J12 (school Year 7) & J13 (school Year 8), however juniors must be 12 years old in May of each year to be considered for our intake course.
We anticipate that our intake will take place around July each year, giving those children who make the grade a chance to integrate into the Junior Squad over the Summer. Please note, we do have limited places so a waiting list is sometimes required when our capacity is reached but we will notify parents when places become available at other times of the year.
Training Times
Winter training in the gym, Monday and Wednesday evenings – 2 sessions divided into age groups.
Summer training on the water, Monday and Wednesday – 2 sessions divided into age groups.
Plus 2 weekend training sessions on the water, Saturday and Sunday mornings – 2 sessions divided into age groups.
Parents
Please Contact SBC for further details and to join the waiting list.
The Boathouse, Riverside,
Dunley Road, Stourport-on-Severn,
Worcestershire DY13 0AA.