Welcome to the Senior Women's Squad.
With over 40 women members ranging from 18 years upwards, the goal is to enable members to achieve their full potential whilst having fun on the river!
Women of all ages and stages of rowing can get involved. If you are a complete beginner, or have a son or daughter, already involved in the sport and want to take part as well, we suggest you try a taster session.
If you have done 'a little' before and want to start again, we will fit you in with crew mates of your experience and age.
You may have rowed before at school or college some years ago and want to start up again or perhaps you would like to return to rowing after a break. Some of our members have taken it up again after a 20 year absence!
You may already be an accomplished rower in which case Email us and tell us about your experience and we will arrange for a suitable outing for you.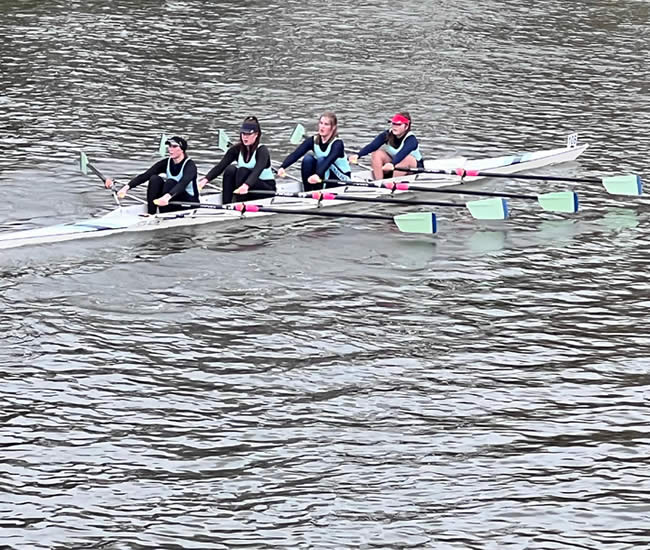 Our members have a wide range of rowing experience from novice to elite.
The Senior Women range from 18-35yrs whilst the Masters Women's rowing section caters for the more senior veteran women from 36 years up to all ages.
Masters rowing has experienced a rapid growth over the past decade and the club can boast victories at all levels from Novice to National competitions.
During the summer months we train on the river weekday evenings from 6pm and Saturday and Sunday mornings from 8am.
Most of our land training is done in the winter in our  gymnasium and with regular 'ergo' and spin bike sessions, a full range of resistance machines and free weights, there is something for everyone. 
Whether you wish to train hard and compete locally, regionally or nationally or just row socially and take advantage of the fabulous workout that rowing offers, we welcome new members regardless of experience.
Rowing is a great social sport and there is always some event to join in with such as Ladies nights, pamper evenings, local bands, fund raising events, Christmas events and the traditional Annual Dinner Dance. In addition many friendships are forged and rowing sessions are extended by the chat over hot drinks or at the bar.
You can do as much or as little as you like but be warned its very addictive !
The Boathouse, Riverside,
Dunley Road, Stourport-on-Severn,
Worcestershire DY13 0AA.